Updated with an interview from Franz Hoffman on July 14th, 2021

Great design can inspire us, unite us, and give us hope.
Great design can ignite conversations and provoke change, wresting us out of ignorance.
In 1978 gay rights activist and artist Gilbert Baker set out to create a new symbol for the gay and lesbian movement to replace the pink triangle — a Nazi relic from World War II. Gilbert's experience as an openly gay man in San Francisco and his work as a vexillographer gave him a unique opportunity to highlight the movement at a critical moent when LGBTQIA+ people were fighting for equal rights. Gilbert conceived of the Rainbow Flag, which he displayed at United Nations Plaza on June 25, 1978 to commemorate the San Francisco Gay Freedom Day Parade.
Gilbert channeled everything he knew and everything he loved into the design of the Rainbow Flag. He poured all his passion, skill, and hope into a flag which is now one of the most powerful symbols on earth. Since the Rainbow Flag's first public unveiling in San Francisco in 1978, it has been raised countless times all over the world as a sign of empowerment and solidarity with the LGBTQIA+ community.
Gilbert passed away on March 31, 2017. Great designers are immortalized through their work, yet Gilbert's contribution to the LGBTQIA+ movement earned him a distinctive form of recognition. To honor his legacy, Ogilvy New York, NewFest, and NYC Pride partnered with Fontself to create a free font inspired by the timeless design of the Rainbow Flag. Befitting the origins of the Rainbow Flag, this font was specifically designed for headlines and protest banners.
The name of this font? Gilbert. And this is its story:
Type With Pride Web from chrisrowson on Vimeo.

I wanted to learn more about this exciting typeface from the man who made it possible — Franz Hoffman, one of Fontself's co-founders.
Andrew Rhodes: The story of how Fontself was invited to collaborate on the Gilbert font family almost defies belief. Have you ever experienced anything like that before?
Franz Hoffman: It was really a lifetime opportunity to collaborate on such a tribute font as Gilbert. It's not every day that you get contacted to work on a project that has a universal meaning & impact; so while we had never considered publishing a font ourselves, we made this one exception to ensure this typeface would come to life.
The colorful design that Ogilvy's team had come up with really resonated with what the Rainbow Flag creator, Gilbert Baker had conveyed in his memorable flag. It was obvious we needed to jump in and work full steam to turn these gorgeous letters into one of the very first color vector fonts ever created.
Today, we are really proud of this collective effort with Ogilvy New York, NewFest, and NYC Pride. Not only for the values it carries, but also because we are thrilled to see how this font is used all around the world.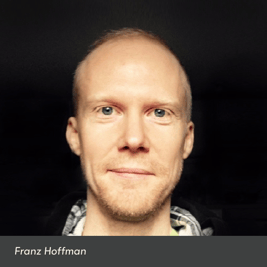 FH: In this case and in many other creative endeavors, an arbitrary deadline helped to set the pace and ensured that something tangible and valuable was delivered. But we're always happily surprised when a subsequent delay is allowed ;)

AR: The Gilbert font project had a lot of moving parts with a tight deadline. In your experience, what factors make it easier for complex creative projects to succeed?
It's better to stick to a plan and deliver in due time, should you scale down the scope of the initial release to ensure improvements can be added gradually afterwards. The pressure will be lower on the team and an extra benefit is that this forces you to crystalize your value proposition.
The one drawback to this approach is that it will often result in compromises and frustration. To be honest, this might be a cost to bear for the long term, as some concessions are never recovered or forgiven.
So, whenever you're hitting these issues, remember it's better to have creative projects that are alive in the wild than perfect plans that never come to fruition.
AR: When Fontself collaborated with Ogilvy New York, NewFest, and NYC Pride on the Gilbert font, it helped highlight one of the key figures in the fight for LGBTQIA+ rights. What other Fontself projects have called attention to cultural shifts like this one?
FH: To date, the Gilbert font is the most iconic design that we have been privileged to contribute to, and while we have seen many social uses of DIY fonts made with Fontself Maker, our font creation software, we believe that we are still at the early days of a new era: when fonts created by a general audience of makers, creatives and thinkers will be more universally and easily crafted and distributed.
That's why we really want to help many more folks get started with type-making, so that more communities can embrace type as an additional medium to share their values and enrich their communications.
AR: What role do you think typography will play in promoting social justice in the future?
FH: Type, handwriting, and lettering have always been at the front of modern social movements, from banners at demonstrations, to flyers or posters. Whether the design is intentional or not, those words are carried by enthusiastic people looking for ways to express their opinion and their cause in written form.
So, if a growing number of activists learn about typography and even master its intricacies, this could further help to put type into the toolbox of anyone looking for social change.
AR: In many ways, Fontself has democratized typography. What are some of your favorite projects created by Fontself users?
FH: The most gratifying part of our job is when we hear from creatives who have joined the typographic bandwagon and come up with projects that may never have seen the light otherwise. Like when we learned about the journey of Tré Seals, a young graphic designer who has crafted entire alphabets based on banners from the civil rights movements in the sixties and launched Vocal Type Co.
Oftentimes, such stories come from various parts of the world, like some really classy designs for a cathedral in Moscow by Viktor Pushkarev or children's fonts carefully crafted by their teachers in Australia.
It's also humbling to see the artwork of designers who had joined our contest around the Gilbert font being featured on giant screens on Times Square in New York, and funny to see custom type on international campaign, like Nike's England's 2018 World Cup material by Craig Ward.
So, we are now focused on a new project that will hopefully further push this democratisation of type-making, and we can't wait to tell you more about the cool new type projects that creatives will do with it :)
For every story an organization creates, for every message a designer wants to share, they need the right fonts to bring their vision to life. If you already know and love the Gilbert font, please share this article and spread the word. And if you're just learning about Gilbert for the first time, this font is for you. This font is for all of us.
Design with pride, create with pride… and the next time you type, type with pride.
Gilbert is the first third-party color font available on Adobe Fonts, and can be easily installed through the Adobe Creative Cloud App.