As with our launch of Suitcase Fusion 9 last week, this week I was able to speak with Chris Meyer, Sr. Product Manager for Universal Type Server to talk about the new Universal Type Server 7. Given his 18-year career at Extensis, and the diverse roles he's occupied across the company—all of them customer-facing—he has a very unique perspective on the needs of our customers and how Universal Type Server 7 can meet those needs to the delight of our customers.

With the launch of the new Universal Type Server 7, thankfully Chris had time in his busy schedule to answer some questions.
1. What was your vision for this new version?
Extensis has been the leading Font Management solution provider for nearly 20 years and has continued to evolve to meet our customer's ever-changing needs. With Universal Type Server 7, it was our goal to modernize the software platform so it continues to lead the font management market and be relevant for customers for many years to come.

Our key goals for Universal Type Server 7 included updating our core technology, security protocols, deprecating Flash, and improving the administrator's user experience. Ensuring our solutions continue to run on a strong infrastructure will allow us to add on the new features and workflow improvements our customers want as their business demands evolve.
2. For whom and what user needs did you build it?
We want to provide creative organizations who rely on having immediate access to thousands of fonts wherever they are working while remaining compliant. These organizations can't keep track of all their font assets because usage has become more dynamic, less centralized, and is distributed across the globe amongst mobile workforces. Whether organizations are supporting creative or design groups in Los Angeles, New York City, London, or freelance designers anywhere in the world, font usage must flow to all users wherever they may be. This makes having a font management platform that can keep up even more mission-critical.

Users need access to their fonts 24/7, 365 days a year so they can produce the high-quality designs that separate professionals from the amateurs. Last minute product or package design changes can make or break a campaign or product launch, or save millions of dollars.
3. What new capabilities and updates are you most excited about?
I am extremely excited and proud of our new Management Application user interface. In preparation for Universal Type Server 7, we discussed the many likes and dislikes of our former Management Application with our customers to get feedback that we could use to improve the next generation of Universal Type Server. Our overarching goal for the Management Application was to modernize the user experience, while making logical improvements to the toolset so Administrators can continue to be productive. So with the global removal of Flash in Universal Type Server 7, we were able to rebuild the user interface from the ground up while being extra thoughtful on changes we could make to improve overall usability. We were seeking the perfect balance of logical straight-forward improvements while maintaining productive familiarity.

I have personally had the pleasure of working with many of our Universal Type Server customers for the past 18 years and wanted to make sure their experience for the next 18 years is progressive and innovative, but not disruptive. I feel we achieved this and more. I'm really proud of the team's accomplishments on this project. I hope our customers love Universal Type Server 7 as much as we do.

We've received positive feedback from test users with both deep Universal Type Server experience, as well as minimal prior experience. Many note that the improvements to the Management Application are significantly noticeable, such that the time it takes to create workgroups and add license information, for instance, has decreased significantly allowing for minimized effort spent on administrative tasks. One newer user told me, "The minute I tried the new Management Application, it felt like I had been using it for years because of how much easier it was to know what all of my options were and what I could do with them."
Previous view of Management Application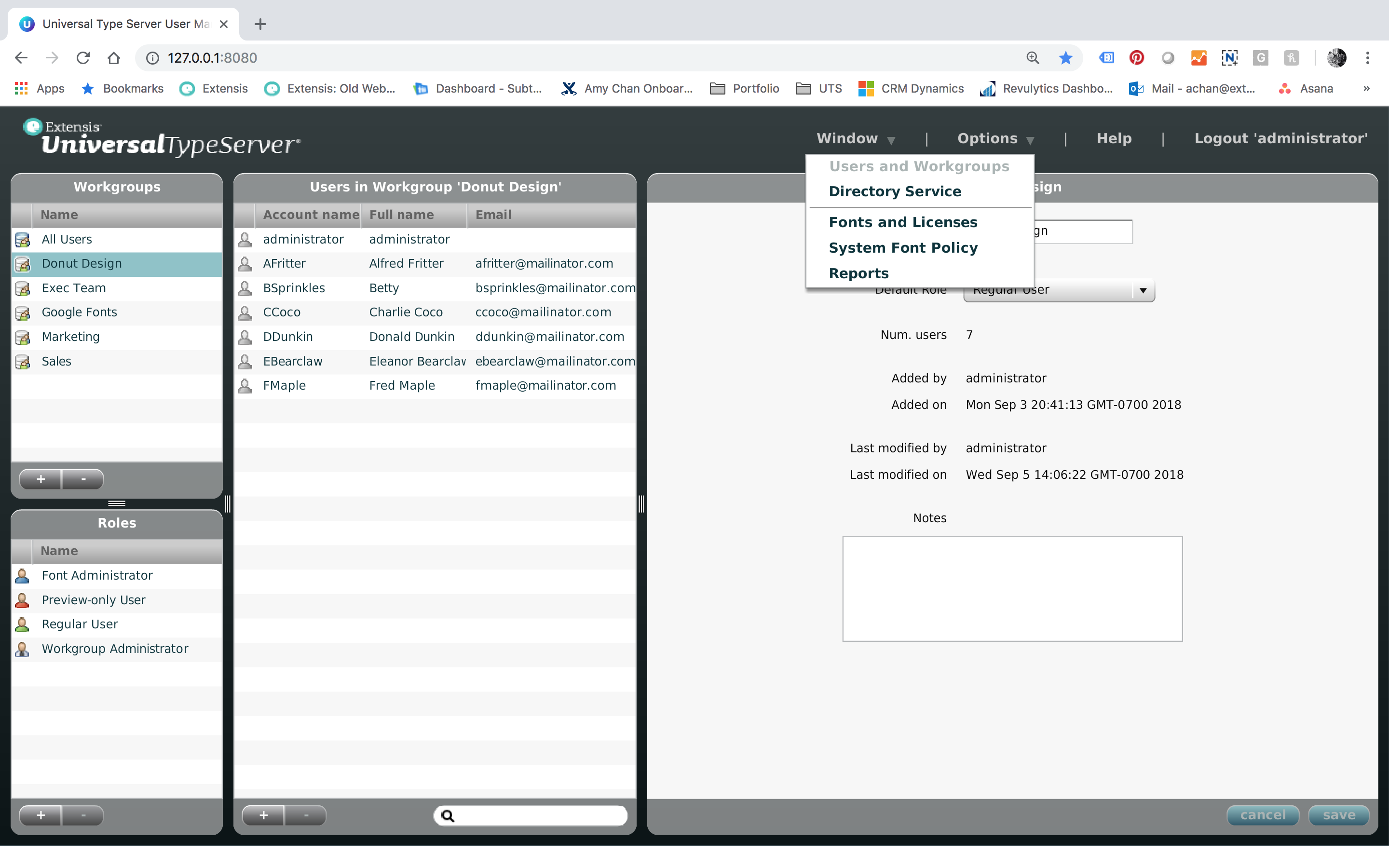 New view of Management Application in Universal Type Server 7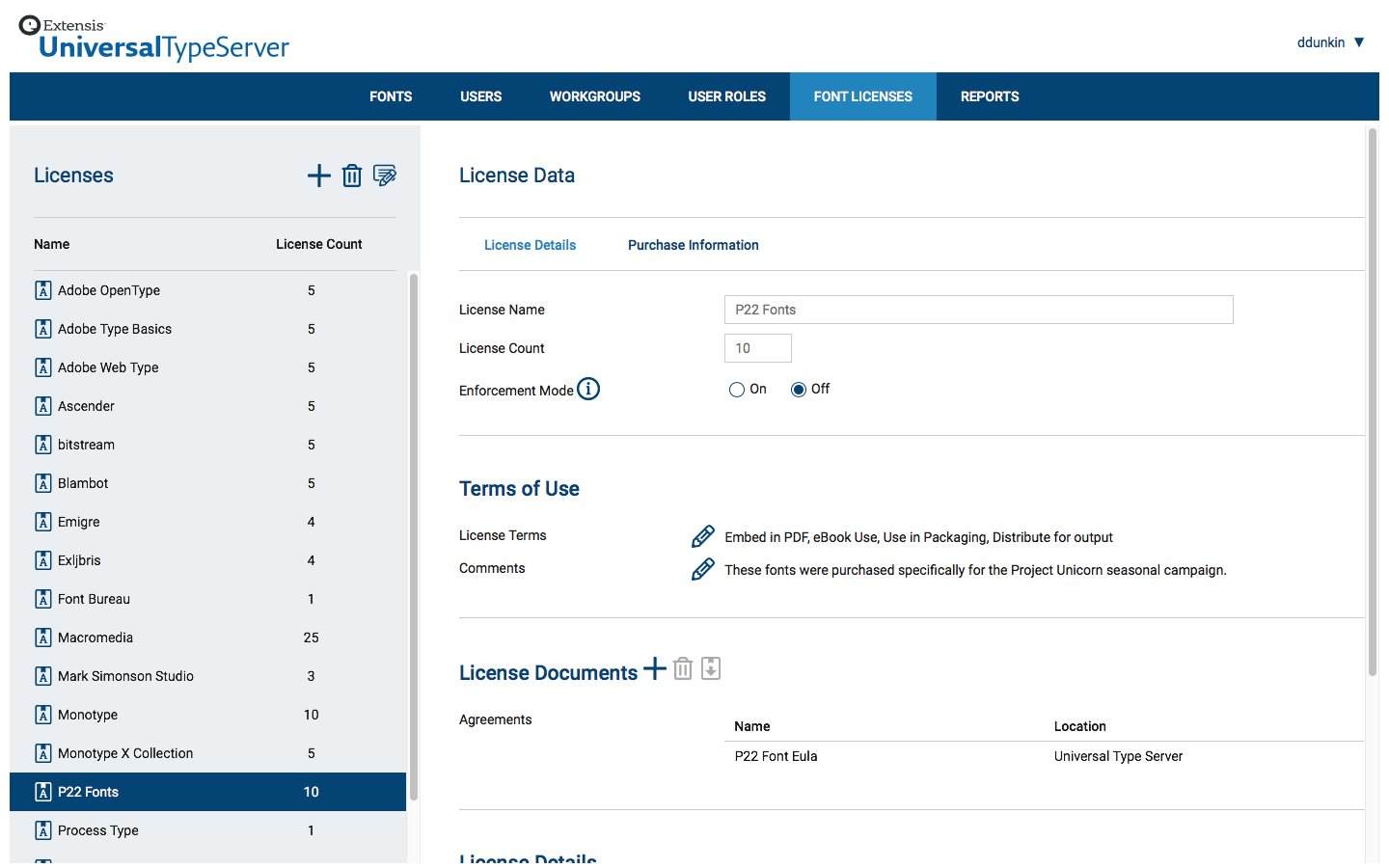 4. Any special tips you have for users in relation to this release?
We know change can be hard so we wanted to minimize any steep learning curve for the new version; so, we strove for feature parity. However, the difference between the previous three-panel window system compared to the new two-panel window system could still create confusion; so, here are some general tips to improve your experience and help you get up-and-running quickly:
There are now six different work spaces: Fonts, Users, Workgroups, User Roles, Font Licenses, and Reports. Each is designed to handle the specific task at hand. No longer are there shared tasks on one workspace. For example, in the new and improved Fonts workspace, you can search and filter your fonts by License, Workgroup, and Compliance Status and see font information. In the License workspace, you can add license information, assign/unassign licenses, and inspect each Font's properties. Whichever workspace you are in, you can now manage what you need from that individual page in the new user interface. User permissions are also consolidated making it easy to perform critical user management tasks within a single window. Functions like Make Full Administrator or Set Global Permissions all exist in the User Roles workspace.
We've cleaned house by tucking away all of the functions you infrequently use. Things like user Default Settings, Directory Service configuration, Product Help and System Font Policy settings have been relocated to the global options menu; making them accessible but not burdensome.
Life has continued to move forward during the building of Universal Type Server 7, much as it has for our customers. We had an engagement, a divorce, a new hire, and a baby born all during the making of Universal Type Server 7. We also named our work sprints after quotes from the Big Lebowski movie and favorite Monty Python skits. Ultimately, the team worked hard on Universal type Server 7, over a very long gestation period. I'm very proud and excited to be delivering it to our customers.
For more information, check out our Universal Type Server page.