Fun fact: The longest tandem bike ever built had 35 seats and was about 67-feet-long!
Impressive, right? Unfortunately, a 67-foot-long bike would be unpractical in the U.K.'s windy countryside roads. Believe us, we know!
In a recent team building exercise Extensis EMEA team (and some U.S. visitors) took the word exercise to heart and set out on a tandem ride challenge.
The setting: Rutland Water, one of the largest artificial lakes in Europe, located in the UK's East Midlands, east to the county town of Oakham. Not only did the scenery make for an enjoyable ride, the British sun seemed to be complacent with our endeavors. In a 4-hour, 11- to 23-mile challenge, opinions were unanimous: Despite the efforts, it was a wonderful get together that finished with homemade pizza where most of us had a go at creating their own Italian delicacy.
But don't just take my word for it, here are some of the cyclists' views of the day:
1. Kristin Ratzlaf – Global Channel Program Manager
What better way to bond with your colleagues than to sweat a little and worry if you might accidentally run off the road into the lake. There was some shouting, there was a lot of manure, and there were moments when we worried our CFO's heart might give out. But there could be nothing better than riding through UK countryside and enjoying a celebratory pint at the end of a day of riding with the EMEA Extensis team!"
2. Robin Wicks – Business Analyst, Information Technology
What could be more relaxing and a great way to know your colleagues, than a Tandem bike ride? Nothing says friendship like 23 miles on the same bike, sharing the highs and lows of the terrain whilst trying (and failing) to not look like a sweaty mess. It was a great day out and is guaranteed to stay in the memory for a long time."
3.
Kevin Lamb – Channel Sales Manager EMEA and APAC
From the children's nursery rhyme "I don't know why he swallowed a fly – perhaps he'll die" … That is how, for a brief moment, I felt when Joanna "the Engine" Brower and I were cycling around the peninsula on Rutland Water through the clouds of midges. That lasted only for approximately 1 mile, though. Great weather meant that at times, while the going was tough and the hills quite steep, the reward of being the first male/female combination to complete all 23 miles was worth it! Our teamwork was just awesome!"
4. Richard Bamford - Customer Success Director (International Business)
Taking individuals out of an office environment and dropping them (with their consent) into an entirely different situation not only helps to break down barriers, but to also build teams and help foster lasting friendships. Over the years here at Extensis we've tried lots of different group activities, not simply to reinforce relationships and aid team-working, but also to experience different things in life.

Although llama trekking in Leicestershire was fun (and involved far less spittle than many of us had been expecting), my favourite group activity up until this last week had been clay target shooting.

This week we went cycling. The shared experience of taking a 20-something mile tandem ride with a colleague not only helped to reinforce existing relationships, but also establish new bonds. For those on the first seat there's a feeling of increased responsibility. For those at the rear, there's the excitement of placing a new trust in the skills of the person in front of them to steer in the right direction — and not crash.

Multiply that experience with the noise of 7 or 8 tandems (and just a little tiny bit of competitive racing) and at times the sense of camaraderie and reckless speed had me imagining what it might be like to be a signed-up member of a biker gang. As we were cruising (but mostly coasting around Rutland Water) in the shadow of the trees, on what was a perfect day, it was probably more reminiscent of a chapter from an Enid Blyton novel, than a chapter of Hells Angels — and especially when we stopped off for Ginger Beer and Lemonade at The Horse & Jockey in Manton.

Personally, for myself, it was an opportunity for our US colleagues to experience a little bit more of England's glorious countryside, and to think that Rutland offers so much when it's the UK's smallest county."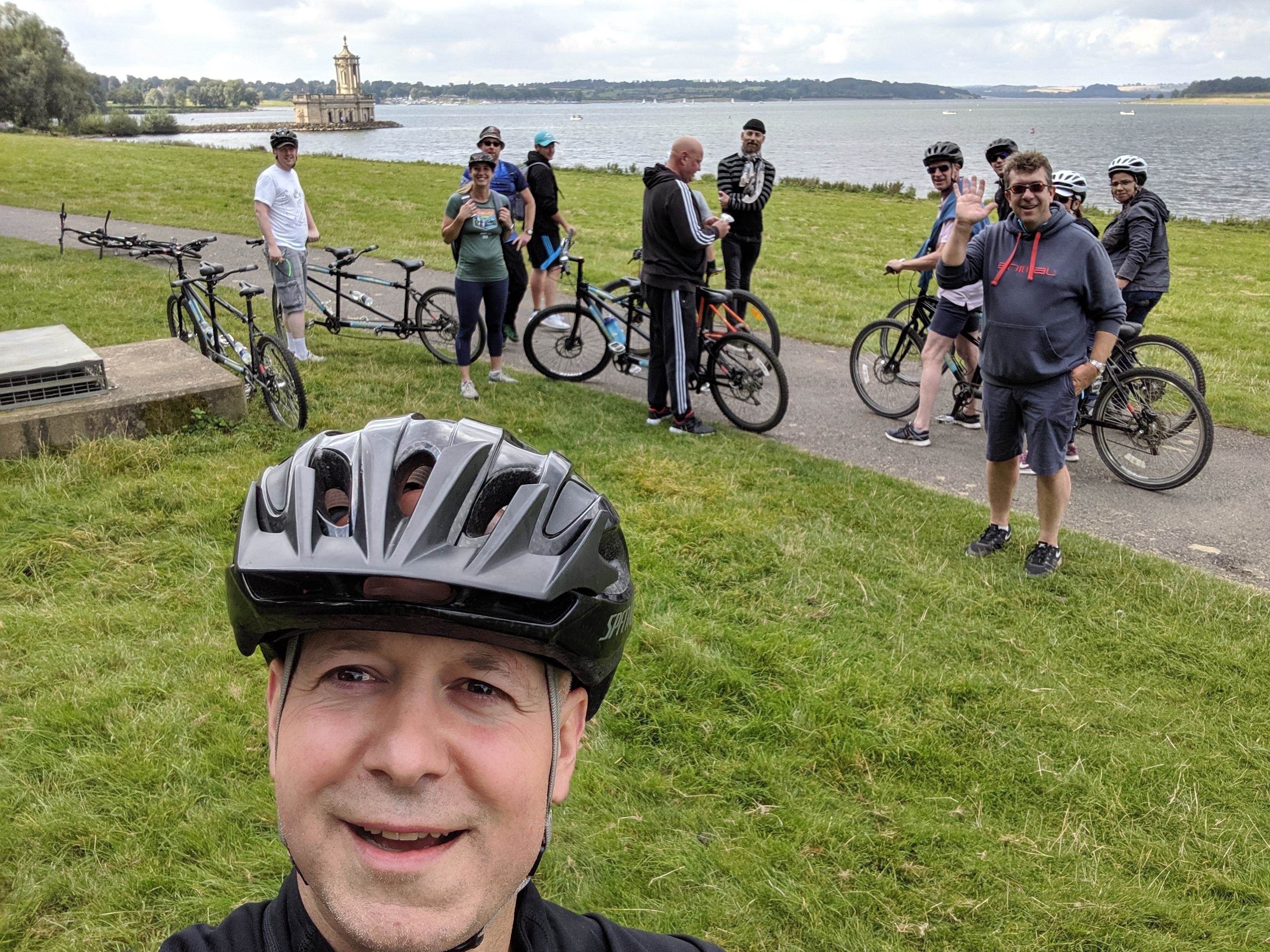 And... for the more literary reader...
5. Erlend Iverson - Account Manager - Scandinavia & Baltic
As weary travellers, we arrived in the winter hours of the gathering.

The Herculean task of traversing the water's edge had been heroically completed. 23 miles covered as doublets of sheer brawn, poised upon a velocipede like Daisy's nuptial transportation, where Nene and Welland converge. The body and spirit had been strengthened, now the mind was thirsty for sustenance. Blankets ahoy draped over exhausted quadriceps femoris, we arrived just in time for the oral sharing of intellectual brilliance.

We were greeted by graceful smirks and metaphoric embraces as the returning forlorn lost son. Once particulars had been shared, questions had been placed and reassurances given the master of the house, the innkeeper, donned the apron of culinarian to conclude the day's activities with cuisine truly worthy of the Napolitano focaccia. As the jovial preparer of food served dish upon dish, the hungry assemblage lapped them up like Shakespeare's Orlando at the Duke's table. The sun decided it was time to make an appearance as the scents from the forge complimented the cascade of flavours filling our vacant abdomens. Conversation was halted only by the insertion of another mouthful.

We left the evening with a feeling that we need not waste time eating until the sun had set three times, and looking forwards to continuing the verbal stimulant once the day dawned once more. Although my participation was short, it was comforting like a warm summer meadow.

As Sicinius from Coriolanus said: "What is the city, but its people?" and as such "What is Extensis, but its people?"