Extensis is headquartered in Portland, Oregon — a beautiful city in the American Pacific Northwest. Our team has always included remote workers and international teams, but over the past few weeks, the entire company has shifted to working from home in an effort to stay healthy and safe while we flatten the curve.
In times like these, it's easy to feel disconnected. Yet Extensis was built upon optimizing communication and improving workflows within creative teams. While we may not be working together in person, we've never been more connected.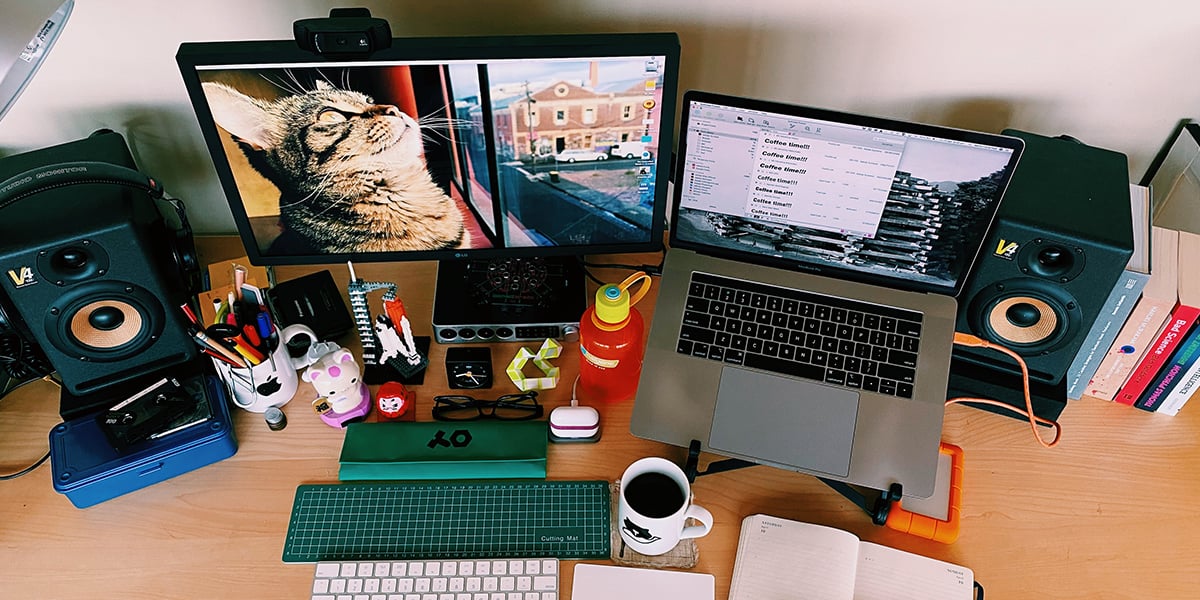 How are we achieving this? We checked in with team leaders, country managers, an IT genius, and our CEO to get the full story.
When you're working to stay connected, you're only as successful as your tools. Greg LaViolette is our Systems Administrator in the Portland office. He says that because most of the team has worked remotely at one time or another, we are pretty well-equipped. And the Extensis team has experience working from home on short notice. Portland has a generally mild climate, but the occasional big snowstorm can shut down the city pretty easily. To accommodate people working remotely during these storms, a strong foundation was put in place.
But Greg has still needed to make adjustments. "Initially, a challenge was supplying remote users with additional hardware and configuring these for their long-term WFH needs," Greg explained. "We're having to utilize remote support tools, as we simply can't sit down at a user's desk."
Small team meetings can move over to video conferencing pretty easily. However, just a few weeks into the mandatory stay at home order, we were due for our quarterly company all-hands meeting. We moved the entire two-hour meeting to Zoom. Our presenters shared their screens to show everyone the latest updates. As a whole, we're working to stay flexible and agile, so that communication and work can continue as normally as possible.
Greg also added:
"Like most everyone else is doing these days, our Friday Happy Hour has been moved over to Zoom. It's nice to be able to make contact with colleagues and discuss how they're all each dealing with the current world we live in."
Richard Bamford is our Customer Success Director based in the UK. From our Northampton office, he manages and coordinates with our Country Managers in France, Germany, and Australia. Typically, everyone would aim to travel and meet up in the UK office every few months. They would also travel to meet with customers, speak at conferences, and more. Over the past few weeks, things have changed dramatically.
Richard says:
"During the lockdown period, we've been using pretty much all of the video conferencing systems — Zoom, MS Teams, GoToMeeting, Webex, etc. We're accommodating different customers' preferences to support them as best we can. We also use Slack, WhatsApp, and text to communicate internally.
Home-working can be mentally tiring and frustrating at times. We've been able to keep everyone's spirits up by adding a second regular (virtual) social meet up at the end of each week, where we all aim to make the meetings fun. Consequently, there's now a bit of healthy competition over who can create the most interesting and amusing backgrounds. We share these at the end of each week."
For our Channel Team, three of the four teammates sit right next to each other in the Portland office — the other lives and works in the UK. The team is used to using Zoom and Slack, but working from home has added a whole other element. Channel Manager Kristin says, "My toddler loves to see who's on the other side of the screen on team calls, Kevin has the most awesome 'aviator' headphones, Paul shares his mid-day baking accomplishments with all of us, and Katherine teaches us all-new ways to use our team tools." They also arrange virtual happy hours to accommodate different time zones and include their UK-based teammate.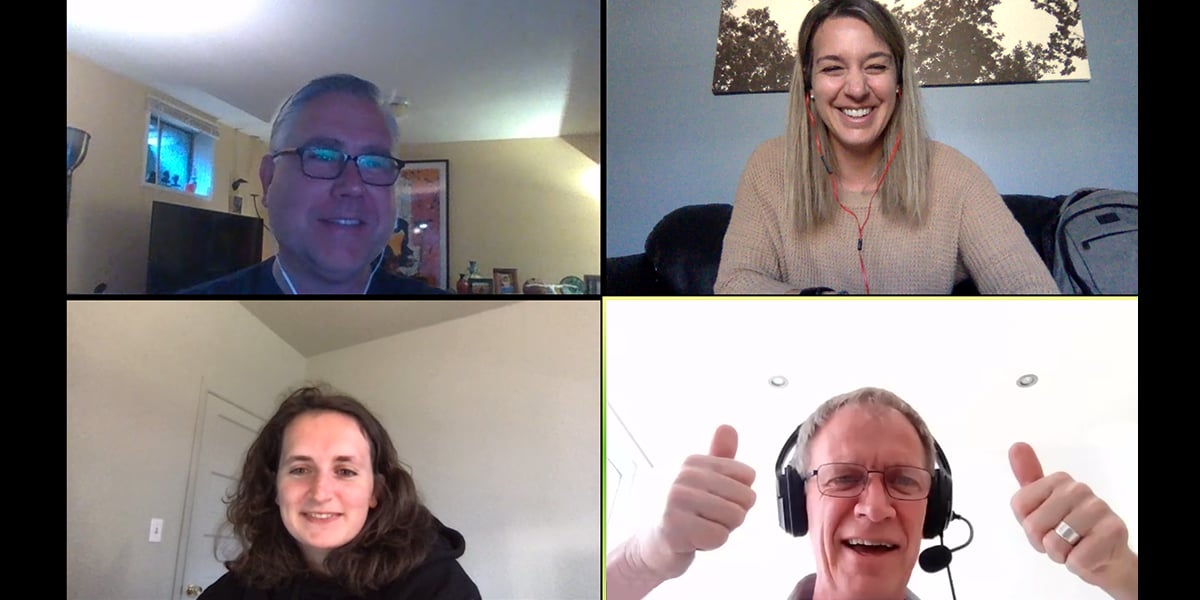 The Channel Team getting in some face time and a good laugh.
Some of our teammates have always worked remotely, so we're looking to them to help the rest of make the most of this new situation. Martin Langridge, our Country Manager for Australia, let us know a little bit about his daily routine. Martin plans for breaks throughout his workday to boost productivity and stay balanced. In times like these, it's actually easier for our work-life balance to get thrown out of whack. Many of us have a tendency to dive into our work to distract us from stress, but Martin reminds us that it's important to exercise, do hands-on activities like baking, and slow down a little bit. His one biggest piece of advice for anyone working remotely?
"Set a start and end to the workday. Set a time and stick to it. You'll be healthier and happier for it."
Our leadership team has been very focused on strengthening our company culture during this time. Our CEO Toby Martin explains, "We started a #cabin_fever Slack channel to share things to lighten the mood; we post lots of ideas for what shows to watch at night or books to read just to replace the 'water cooler' moments; we've done lots of team happy-hours virtually; but more than anything we've kept being there for each other so when someone has a down day, there's always a teammate willing to chat to lighten it up."
That Slack channel has taken off! People are constantly sharing nature photos, their home DIY projects, recipes, embarrassing #TBT photos, and more. We keep it strictly casual and not related to actual work. It's been a great way to stay in touch, learn more about our colleagues, and get some good laughs in.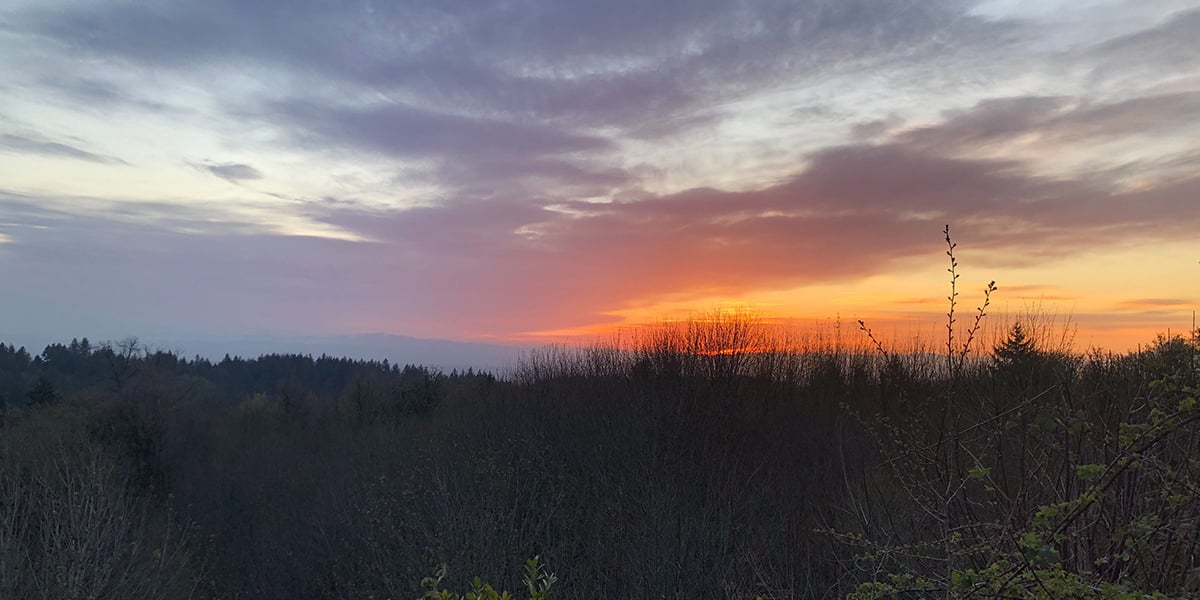 The view from an afternoon walk in the Portland hills.
Toby added, "I've been so happy to witness us all practice empathy for each other and our customers. By truly living the core values we espouse every day, we are the company we always wanted to be. By being focusing on our health and the health of families, friends, and communities, we've been able to weather the storm so far. We cannot wait to get back to the office and how life was before, with true appreciation for everything we have."
To learn more about Toby's approach to leading the team during the current health crisis, check out his article in the Portland Business Journal.