International Women's Day is celebrated every year on March 8. In the tradition of championing the achievements women have made at work, in politics, on the playing field, and just about everywhere else, Extensis is pleased to feature nine notable women in the geospatial community.
These women are noteworthy on International Women's Day and every day for the contributions they have made in a profession that benefits our entire planet and everyone who lives on it. Please join us in saluting them for making the geospatial industry more productive and inclusive!
Geospatial Trailblazers
Many date the start of the geospatial industry to the 1970s when a new kind of computer software called GIS began gaining traction in the workplace. Geospatial conference participants back then (and even well into the 80s) would have been overwhelmed by the disproportionately large percentage of men in attendance (almost all wearing gray suits, by the way). But time slowly began changing through the 80s and into the 90s. These women helped tip the balance.
Kass Green combined her expertise in forestry, wildland resources, and remote sensing to create one of the first – and most successful – geospatial services firms in the United States: Pacific Meridian Resources. Contributing significantly to the detection and mapping of Old Growth Forests in the Pacific Northwest, Kass became president of Space Imaging Solutions which pioneered applications of high-resolution commercial satellite imagery. With a Ph.C. in Wildland Resource Policy & Economics from UC Berkeley, she is now president of Kass Green & Associates in the San Francisco Bay area. Watch as Kass Green discusses the importance of location in this Geospatial Revolution video by Penn State: https://www.youtube.com/watch?v=ZdQjc30YPOk&feature=youtu.be
The geospatial profession is comprised of many sectors, and among the most important to U.S. national defense is the geospatial intelligence (GEOINT) community. In 2010, Letitia Long broke through a glass ceiling in GEOINT when she was appointed Director of the National Geospatial-Intelligence Agency, or NGA, making Letitia the first female to head a major U.S. intelligence organization. Her four-year NGA tenure included providing geospatial information support to numerous high-profile U.S. military and humanitarian relief missions.
When the U.S. Congress commercialized the Landsat remote sensing satellite program, the responsibility fell upon the Earth Observation Satellite Co. (EOSAT) to do what had never been done before – develop a commercial market for satellite imagery. Among EOSAT's first hires was Dr. Shawana Johnson who played instrumental roles in establishing a team of direct sales professionals and creating a first-of-its-kind worldwide network of Landsat value added resellers. Shawana, now President of Global Marketing Insights in Ohio, is recognized as a leader in Geospatial Business Intelligence, assisting clients in successfully bringing innovative geospatial products and services to the worldwide marketplace.
Making a Difference Every Day
Wherever your travels around the globe might take you today, there are women using geospatial technologies to improve our world and preserve its wonder.
Most people know Caitlin Dempsey as the editor and founder of GIS Lounge, an online resource for news, feature stories, book reviews, and other information related to the world of geo. Few are doing more than Caitlin to encourage and promote their sisters in geospatial professions around the globe. She maintains an active page on her website that contains links to women's networking groups and podcast interviews with standout ladies in the GIS field. Check it out: https://www.gislounge.com/women-in-gis/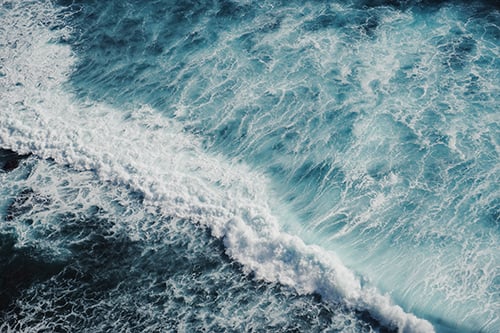 One would think serving as Esri's Chief Scientist for more than eight years and working as a professor of Geography and Oceanography at Oregon State University would be enough to keep Prof. Dawn Wright occupied. Yet, she manages to dedicate much of her free time to mentoring and inspiring girls to pursue STEM educations. Asked to name the woman who inspired her the most, Dawn's response was, "My absolute top female role model is my own mother, an educator in speech communication, but always a beacon of integrity, grace, patience, and good humor." Read the entire interview with Dawn on this topic on the Women in GIS website at https://womeningis.wildapricot.org/Dawn-Wright.
The 2020 U.S. Census is underway now. Counting over 325 million people requires many diverse resources…including maps! Deirdre Dalpiaz Bishop is chief of the U.S. Census Bureau's Geography Division which is tasked with development of a national geospatial database. According to her official government bio, this database of addresses, roads, and boundaries serves as the foundation for the all Census activities. Deirdre's job is so big that Esri recently featured her in its Women in GIS e-book (which you can buy here for $9.95).
Mapping is often described as a combination of art and science, and no one illustrates this point more vividly than Geraldine Sarmiento. A cartographer at HERE, Geraldine lets her artistic side run wild in the creation of stunning works of art that might inspire you with their colorful beauty. Or they might show you where the bus stops are located in London. Take a look at her gallery at https://geraldinesarmiento.com/.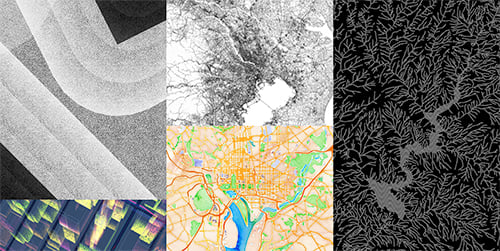 Leading a New Geo-Generation
In 2020, a new generation of geospatially savvy women is making a positive impact on our industry and our world.
Each year, the xyHt geospatial industry trade magazine features up-and-coming young professionals in its 40 Under 40 issue. In 2020, the magazine featured Agata Fischer of Leica Geosystems in Switzerland. Recognized for her expertise in ground-penetrating radar and construction technology, Agata is Business Director for Leica's Detection and Services group. xyHt summed up Agata's contribution to the geospatial community: "While her academic background was in business process and marketing, Agatha has gained an exemplary understanding of geomatics and geospatial theory, practice, and especially emerging technologies."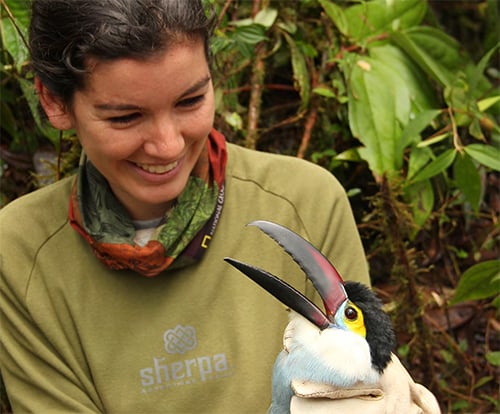 Natalia Ocampo-Peñuela is another inspiring woman the editors of the Esri Women in GIS book just couldn't resist. Born in a small Colombian village, Natalia never had an interest in birds until her mother accidentally signed her up for an ornithology course. This 'mistake' led Natalia to earn a PhD in Conservation Biology, well known for applying GIS technology to preserve vital bird habitats. Now grown and juggling a work-life balance with her own family, Natalia still spends time in the jungles of the Central Andes. Read her story here: https://esripress.esri.com/storage/esripress/images/368/womenandgis_samplechapter.pdf.
Where can you get involved with women who are making the world a better place through geospatial technology?
Join a group near you or form your own by clicking on the GIS Lounge link at https://www.gislounge.com/women-in-gis
Add your name to the international Women in GIS story map and check out numerous other resources for women at https://womeningis.wildapricot.org/.
Lean into the conversation on Twitter by following #womeningis.
Start mapping your own story today.